Conquer Opening Soon: We will open up our Conquer support group on April 12th. You can join the waitlist here and be the first to know. Join the waitlist at leslievernick.com/conquersignup
YouTube Channel: Have you checked out our YouTube channel yet? We have great teaching videos there. Check us out and subscribe here.
Be Careful What You Say
Leslie Vernick

We live in a culture of talk and tweets. We're encouraged to express our feelings, hold nothing back. We've all seen in national news how people's unrestrained talk and tweets can get them into public hot water. Every day I see the relational fallout that comes from thoughtless, deceitful, and cruel words.
Hear me. There are times we ought to keep our negative thoughts and emotions to ourselves and refuse to give them a public voice. The Bible warns us that our tongue can be a mighty weapon, for good and for evil. (James 3:1-12). Proverbs warns us, "Reckless words pierce like a sword" (Proverbs 12:18). We can damage a person's spirit, family, or reputation by blurting out negative thoughts and feelings without any thought or prayer. Yes, it might temporarily feel better to blurt them out when we're mad or hurt, but I liken blurting to vomit. Vomit belongs in the toilet and not on another person.
But it's not only good for the other person that we learn not to blurt our negative thoughts and feelings during moments of great intensity. It is also good for us.
Proverbs 21:23 says, "He who guards his mouth and his tongue keeps himself from calamity."
Proverbs 13:3 says, "He who guards his lips guards his life, but he who speaks rashly will come to ruin."
1 Peter 3:10 says, "Whoever would love life and see good days must keep his tongue from evil and his lips from deceitful speech."
Imagine how much better you would feel if you weren't always complaining or critical of something wrong in your life. How would your relationships be improved if the people you loved didn't feel angry with you by your reckless or deceitful words? How different would you feel about yourself if you weren't so captured by your own negative feelings and thoughts?
Here are three things you can do to before you press send or blurt out your negative thoughts and feelings.
1. Decide: No matter how negatively you feel you make a conscious decision that you will not vomit your toxic emotions out on others. (Don't get me wrong – you may have to speak some hard word at times, but hard words need not be harsh words). The psalmist determined, "I will watch my ways and keep my tongue from sin; I will put a muzzle on my mouth as long as the wicked are in m presence" (Psalm 39:1).
2. Acknowledge the struggle: In Psalm 39 despite his vow to keep silent, the psalmist found keeping quite pretty tough. Silence didn't bring the psalmist satisfaction but more anguish (see verses 2 and 3). During this time of anguish and temptation write a no-send letter venting out your feelings or praying them out to God until you can get a better perspective and calm down.
3. Remember the big picture: It's crucial that you understand that YOU are much more than your temporal thoughts and feelings. We all have negative thoughts and feelings but it's important to not allow them to have us. Instead of getting stuck in your mood or negative thoughts, remind yourself that you are more than your feelings and you will have to give an account for how you handled adversity. Remember your goals (I don't want to vomit on people), your deeper desires (I want to be a godly person, or I don't want to have regrets later) or your values (I want to treat people as I would like to be treated). This practice helps us develop the muscle of restraint and self-control so that we don't become a slave to our emotions.
Dietrich Bonheoffer said, "Often we combat our evil thoughts most effectively if we absolutely refuse to allow them to be expressed in words…It must be a decisive rule of every Christian fellowship that each individual is prohibited from saying much that occurs to him."
Let's make 2022 a year that we use our tongue and our tweets for good not harm. To build up and encourage one another not tear down or insult, attack or disparage one another.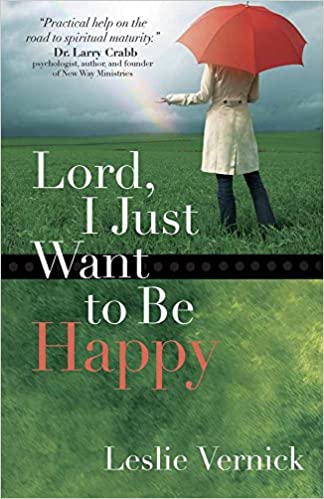 Lord, I Just Want to Be Happy
by Leslie Vernick
Counselor and author Leslie Vernick has discovered that many people pray, "Lord, I just want to be happy!" With candor, Leslie reveals that readers don't need new circumstances but a new perspective to discover true happiness. With biblical insight, Leslie guides readers to take simple steps as they…
recognize and change habits that, day by day, keep them from experiencing happiness
make good choices and learn from mistakes without beating themselves up
develop the skills that enable them to let go of negative and painful emotions more quickly
transform difficult circumstances so they can live with gratitude, joy, and purpose
Application questions help readers work godly thinking, as well as healthy skills and habits, into their lives and hearts. They'll discover that, even if nothing changes in their circumstances, their inner chains can be broken and they can go free…into a new path of real hope and happiness.
Two winners will be selected in our next newsletter! (Giveaway only available to U.S. residents)
If you would like to enter to win, you can click here to provide name and email address.
The winners of "Lord, I Just Want to Be Happy" by Leslie Vernick are Julie L. and Amy E.
Upcoming
Events

Want to have Leslie speak at your event? Click here to find out more information.
AACC
September 8th – 10th
Dallas, TX
Center for Christian Counseling
Date TBA
Madison, WI
Forgive and Forget, Is That Wise?
By Leslie Vernick

Question: My husband keeps telling me I have to forget the past if I've genuinely forgiven him. He says that I have not really forgiven if I haven't forgotten his sin. I don't want to make him feel bad, but I don't think I'll ever forget what he did. Am I wrong?
Answer: Counseling for over 30 years with couples attempting to recover from serious marital sin, I have often heard one of them say, "Why can't you just forgive and forget?" or "You're holding onto the past? Can't we start with a clean slate?" or, "God says that we're to forget the former things. Each day is a fresh start."
Christian counselors and pastors are also guilty of using these same phrases when the one who has been sinned against feels stuck and is unable or unwilling to be silenced and continues to bring up past offenses or hurts in the counseling session. There is a time for putting the past in the past, but doing so doesn't mean forgetting the past, it means healing from it.
Here are three reasons why you should not forget the past.
What People Are Saying About Leslie's Walking In CORE Strength Group
"Walking in CORE strength was a game changer for me!
I knew that my marriage, issues with me kids, and crazy financial upheaval constantly left me feeling like a fish – flopping around, out of water, gasping. Walking In Core strength helped me SEE my part of this problem. I began to see how I was contributing to the cycle.
And best of all – because Jesus has freed me to walk in CORE, I am clothed in strength and dignity….. and I smile (HOPE) in what the future holds. Is it scary some days? YES! But today I can confidently say that I can look fear in the face and smile. Praise the Lord!!!"
-Amber P.
LESLIE WELCOMES YOUR QUESTIONS

Leslie wants to help you grow in your personal and relational effectiveness. Please submit your questions by clicking here.
Then, visit Leslie's Blog as she posts her responses to one question per week.
Note: Due to the volume of questions that Leslie receives, she is unable to respond to every question.