Merry Christmas: Our office will be closed Friday, December 24th in observance of Christmas. We will be back on Monday, December 27th. We know the holidays can be extra difficult and we want you to know that you are seen, heard, and loved by a loving God.
Bad girl or Brave Girl?
Leslie Vernick

This Advent season I've been studying the women in the lineage of Christ as reported in Matthew 1. It's fascinating that the women I thought God would choose, women like Sarah, Leah, Deborah, or Miriam, are not mentioned at all. There are only five women singled out in this long ancestral list. Tamar, Rahab, Ruth, Bathsheba, and Mary. With the exception of Mary, mother of Jesus, these four women were broken women, disenfranchised, marginalized, and discarded women. Yet God saw fit to use their womb to bring about His story and our redemption.
I wish I had space to cover them all, but I just want to focus this season on Tamar's story. This is not the Tamar that was David's daughter who was raped by her half-brother Amnon. (2 Samuel 13). This is a different woman and a different story. She's Judah's daughter-in-law, Tamar, from Genesis 38.
It's interesting to note that Tamar's story seems out of place in the narrative between Genesis 37 where Joseph is sold into slavery and ends up at Potiphar's house, and Genesis 39 where Joseph is propositioned by Potiphar's wife, flees and is unjustly put in prison. The Holy Spirit must have had an important reason to insert Tamar's story right here in the Holy Scriptures.
At first read, Tamar appears to be a shrewd and embittered bad girl. Widowed twice at a young age by two of Judah's sons, she is childless. Years later Tamar disguises her face with a veil and sits by the village gate. Judah, her recently widowed father-in-law, mistakes this veiled woman for a temple prostitute and propositions her for sex. They bargain and Judah tells her he will send her a goat for payment. The woman requires that Judah leave a guarantee that he will send the goat and Judah leaves her with his personal ID. His seal, its cord and his walking stick.
A few months later Judah hears the shaming news that his widowed daughter-in-law Tamar, has acted like a prostitute and is pregnant. Furious he orders her to be burned. But as they seized her, she cries out, "Tell the man who owns these things that he made me pregnant" and she produces Judah's seal, his cord and his walking stick.
Judah's response is profound. He says, "Tamar is more righteous than I am."
What does this mean? Here is where it's crucial that we understand a bit of Jewish culture during this period of history. When a woman was widowed and did not have an heir, she had no rights to inherit her husband's estate. She had no rights to familial support. She was destitute and powerless. To prevent that, Jewish culture mandated that the brother of the deceased step up and marry the widow in order to provide a child to carry on the dead brother's name. This practice ensured a widow would receive her rights to the family inheritance and familial support.
The story tells us that Judah was the one who arranged his oldest son's marriage to Tamar. But this son is described as a wicked man and dies young. Judah then instructed his second son Onan to fulfill his brotherly obligation to marry Tamar and provide his deceased brother an heir. Onan complied on the surface by marrying Tamar and having regular sexual relations with her but prevented her from getting pregnant. The Bible tells us that Onan didn't want his dead brother to have an heir, perhaps thus reducing his own share of his father's estate. The Lord saw what Onan did to Tamar as evil and he died young too.
Judah then promised Tamar that his youngest son, Shelah, would marry her when he grew up. But Judah had no intention of honoring this commitment because he was afraid Shelah would also die.
What was Tamar to do when she saw that Shelah was of age and her father-in-law was never going to honor his word? Destitute and desperate should she stay stuck and starve? No, instead Tamar took initiative and hatched a plan. Tamar veiled her face and sat at the entrance to the village. She didn't know the outcome but she bravely put herself in a position to claim her rights to patriarchal protection.
Judah, perhaps lost in his grief at recently losing his own wife, never once looked at Tamar's veiled face, even after propositioning her for sex. Even during the most intimate of acts she was just an object to use. Perhaps she brought him a moment of relief or pleasure or comfort. But God saw Tamar's plight. He saw the future she faced and the injustice she had experienced.
God honored Tamar's initiative and her courage and she became pregnant with twins. Judah was correct when he said that she was more righteous than he was. Judah failed in his obligation to keep Jewish law and provide for her, his twice-widowed daughter-in-law. And he failed again when he angrily accused her of acting like a prostitute when he himself had just used one.
Perez and Zerah were Tamar's newborn twin boys. They were God's gift to Tamar. Perez, her firstborn is in the lineage of Christ.
Friend, this is good news. Tamar was not a bad girl but an exceptionally gutsy and brave girl. She didn't stay passive, victimized by situations outside her control. She did what she could and trusted God with the outcome. And God showed her, he was more than capable of doing the rest.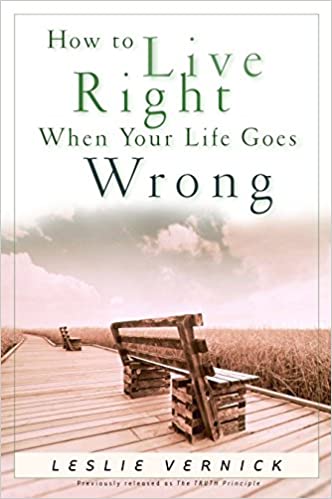 How To Live Right When Your Life Goes Wrong
by Leslie Vernick
Despite the abundant availability of both self-help books and Bible study materials, many of us find it difficult to apply what we learn, to make that long head-to-heart journey of change. When we are faced with life's daily trials, our responses often lack the Christian maturity we desire—showing us clearly just how far we have to go. Is it possible to achieve a deeper, more permanent change of heart? Author and counselor Leslie Vernick says yes. Now, through one practical, simple-to-understand and easy-to-remember model, you can:
Gain a new perspective on the troubles God allows in your life.
Come to better understand your response to those trials.
Discover the underlying idols that hamper your efforts to change.
Learn how to discern the truth of God's Word.
Develop the heart response that will draw you closer to God.
Two winners will be selected in our next newsletter! (Giveaway only available to U.S. residents)
If you would like to enter to win, you can click here to provide name and email address.
The winners of "The Emotionally Destructive Relationship" by Leslie Vernick are Solly M. and Debra W.
Upcoming
Events

Want to have Leslie speak at your event? Click here to find out more information.
Center for Christian Counseling
Date TBA
Madison, WI
What's Wrong With Sacrificially Helping Others?
By Leslie Vernick

Question: I love serving and helping people. It makes me feel needed and valued, plus I just like to be a servant to others. What's wrong with that? Isn't that what God calls us to do? Serve others without looking for what's in it for me? Sometimes when I listen to you I feel like there is something wrong with me that I'm not more selfish. Can you help me understand why I shouldn't serve and give to others?
Answer: I don't think I've ever said that we shouldn't serve, help, give, and even sacrifice ourselves at times in order to help someone who needs our help. I think those are noble qualities. But let me clarify where I think you may have misunderstood what I teach.
I'm glad you love to serve and help people. I wish there were more people in the world who loved to do that. But are you also free to say no when it's not good for you to say yes? For example, what if your adult child asked you if he could borrow money from you even though you knew that he had a history of being financially irresponsible? Or, that you didn't have extra to give? Could you say no? Or would you sacrifice your own financial safety to help him out?
What People Are Saying About Leslie's Empowered To Change Group
"I can't say I never face the enemy's attacks with fear, BUT I've grown so much—I'm not the same woman I was two years ago.
I'm now able to call the wrong behavior wrong; I no longer offer excuses for his behavior. And my relationship with God is richer than before. He's proven Himself so faithful with His gifts of courage and encouragement. I've spoken honestly with my husband in ways I never thought possible.
I highly encourage you to spend an E2C course with Leslie and gain some tools that will serve you well for a long time"
~ Jan G.

LESLIE WELCOMES YOUR QUESTIONS

Leslie wants to help you grow in your personal and relational effectiveness. Please submit your questions by clicking here.
Then, visit Leslie's Blog as she posts her responses to one question per week.
Note: Due to the volume of questions that Leslie receives, she is unable to respond to every question.