Change Your Story; Change Your life: The workshop is happening TODAY! You can still join us. You are going to love it! Get your login link at leslievernick.com/joinworkshop
Are Your Holidays Toxic?
Leslie Vernick

You wish it were true. You'd love to have a nice family gathering on Christmas, a day where people celebrated Jesus' birth and treated one another with kindness and love. But that's not your reality. Your holidays are filled with toxic and unhealthy people.
Maybe in your house people will be using it as a day to overindulge in alcohol, making them less kind or more aggressive. Or your holidays will be filled with you serving and giving while others are taking and complaining. Or maybe your spouse or adult children are generally mean spirited, critical, mocking, or completely indifferent towards you. Christmas isn't any different than any other day of the year, but you keep hoping that this year will be different.
Knowing ahead of time that your holidays may be filled with toxicity gives you time to prepare to take care of yourself. Proverbs says, "Wisdom will save you from evil people, from those whose words are twisted." Proverbs 2:12
How? If you knew ahead of time that you were heading into a toxic or unhealthy environment, what would you do to best protect yourself?
You might open the windows to let in some fresh air in. You might put on a protective suit or a mask, frequently wash your hands, or simply intentionally limit the time you stay in that environment. You don't want to allow yourself to get infected with the other people's toxicity and get sick.
In the same way, you can emotionally, mentally and spiritually prepare so that you will not be as negatively impacted. Here are a few things you can do.
Mentally: Stop taking someone's treatment of you personally. How someone treats you says something about him or her, not you. Yes it hurts to have even a stranger be cruel towards you let alone a family member, but it reveals what's going on in their heart not yours (Luke 6:45).
In addition, limit your exposure. If others are hostile or cruel, you can choose not to participate. You can stay home, leave early, not serve alcohol at your gathering, or not invite those people over. You are allowed to have boundaries, even on Christmas. If it's your spouse, make other plans for yourself for part of the day instead of passively being a victim of spouse's hostility. Get yourself a good novel to read, put your earphones on and head to your quiet place to get a break.
Emotionally: Accept the reality that you can't control other people. Even Jesus could not control Judas or the Pharisees; not how they thought or felt about him or what they did. Observe rather than absorb the toxicity around you. Notice how unhealthy and deformed these people are (from the person God wants them to be) and don't even know it. This may make you feel sad, but hopefully not as mad. Don't allow yourself to get provoked into reacting. When you start to feel yourself getting reactive, take a break to calm yourself down. Breathe, and leave if you need to.
Spiritually: If you're a believer in Jesus, remember who you are in Christ. You are defined by Him, not by another fallible human being. You are a child of the most High God. You are a joint heir with Christ. You are seen by God as perfect, beautiful, and completely forgiven. Well before you attend your event, read Ephesians 6:10-18. Pray to God to help you be strong in Him and in His mighty power. Put on the full armor of God just like you would put on a HAZMAT suit if you were heading into a toxic environment. Consciously apply each piece. Picture yourself covered in grace and truth, protected by Almighty God against any and all lies and attacks from the evil one so that you can stand strong in the truth.
Remember, God did not intend his creation, including you, to thrive in toxic environments. It is not selfish to take good care of yourself; it is good stewardship of you.
PS. If you have time, I would love for you join me for a free workshop I am doing TODAY. It's called "Change Your Story; Change Your Life" and you can see it right here >> leslievernick.com/joinworkshop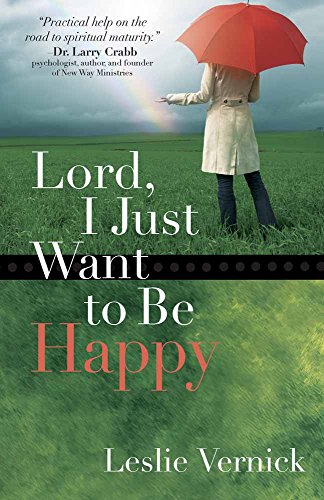 Lord, I Just Want to Be Happy
by Leslie Vernick
Counselor and author Leslie Vernick has discovered that many people pray, "Lord, I just want to be happy!" With candor, Leslie reveals that readers don't need new circumstances but a new perspective to discover true happiness. With biblical insight, Leslie guides readers to take simple steps as they…
recognize and change habits that, day by day, keep them from experiencing happiness
make good choices and learn from mistakes without beating themselves up
develop the skills that enable them to let go of negative and painful emotions more quickly
transform difficult circumstances so they can live with gratitude, joy, and purpose
Application questions help readers work godly thinking, as well as healthy skills and habits, into their lives and hearts. They'll discover that, even if nothing changes in their circumstances, their inner chains can be broken and they can go free…into a new path of real hope and happiness.
Two winners will be selected in our next newsletter! (Giveaway only available to U.S. residents)
If you would like to enter to win, you can click here to provide name and email address.
The winners of "The Emotionally Destructive Marriage" by Leslie Vernick are Bonita J. and Melissa T.
I Need Specific Steps On Separation
By Leslie Vernick

Question: I need to separate from my husband soon. I've been receiving counsel for months, I've written a script for the conversation, and I have a counselor ready to facilitate, but I have many questions and feel unsure about what to say and what to do.
I feel like I need a step-by-step instruction guide on "How to ask your husband for a therapeutic/healing separation and get it to happen now." I want to do it in such a way that he understands the need and value and cooperates. Do you have how-to content somewhere that will give me the words and prepare me for possible responses?
Answer: I chose your question because you are making a common mistake that will keep you stuck and fearful of having this conversation around separation.
But before I share your mistake, I want to commend you for working with a counselor and taking the time to think through what you want to say and to even write it down. I also like that your counselor is willing to help you facilitate this tough conversation in the most constructive and ideally cooperative way. Kudos to you. You've done your part.
The mistake that keeps you paralyzed is that you want to control his response…
What People Are Saying About Leslie's Empowered To Changed Coaching Group:
"After 36 very rocky years of marriage, I believe I "left well" and have no plans to reunite. I do want to grow to the place where I can participate in family gatherings and be at ease with my husband's presence. I joined E2C to become stronger in my CORE, so that I'm healthier in all my relationships. I have focused waaaaay more on others' problems, rather than seeing my problem with their problem. I avoided doing my own work by "working" on their problems. It IS empowering to stop throwing away so much energy on efforts to change others, rather than exerting the productive energy of changing myself! I love connection and community, and in my delight of serving others I am growing more and more loyal to Jesus so that others are not idols to me, that I let control me. I definitely tend to be passive aggressive in conflict, but am gradually seeing how very FRUSTRATING that is for others who are in a relationship with me. Having a literal script to practice before having hard conversations was VERY helpful. I love the wheel of emotions :). I am also so thankful for my wise coach who was there every step of the way."
―Valerie
LESLIE WELCOMES YOUR QUESTIONS

Leslie wants to help you grow in your personal and relational effectiveness. Please submit your questions by clicking here.
Then, visit Leslie's Blog as she posts her responses to one question per week.
Note: Due to the volume of questions that Leslie receives, she is unable to respond to every question.