Happy Holidays: Our offices will be closed on December 24th, 25th, 31st, and 1st. We wish you a wonderful holiday season.
Are you too Busy For Christ this Christmas?
by Leslie Vernick
2020 has been a hard year. Many of us are forgoing our normal traditions because our family won't be there to share it with us. And if you're still scurrying about, decorating, buying gifts and wrapping them, and sending them, remember the "why" we celebrate more than the "how" we celebrate.
This year, I'm doing something new just for me. I'm being creative and using an Advent Journal to process this season more deeply. I'm making artistic tags, coloring, drawing, and pondering each day what this mystery, "God with us" really means.
I was meditating on Sara Young's devotional, Jesus Calling, where she writes about Jesus. "I speak in the language of Love; My words fill you with Life and Peace, Joy and Hope. I desire to talk with all of my children, but many are too busy to listen."
Is this YOU? Are you too busy to listen? There is a huge difference between hearing something and truly listening. I've heard Christmas carols before now, but I haven't always listened to them. I haven't pondered their words or felt their melody. They've been nothing more than background filler. They haven't touched my heart.
I wonder if that's what God's Word becomes for many of us. We hear, but we don't listen. We know the words, but they fail to move us. They don't really change our hearts.
But God's Word is meant to move us, to heal us, and to change us. The psalmist declares "He sent forth his Word and healed them." (Psalm 107:20). And John writes, the Word was made flesh and dwelt among us. And even then, people didn't listen (John 1: 10,11).
Are you lacking hope, joy, and peace even in this most joyous of seasons? Perhaps it's because you're not listening. You hear, but you don't believe. The apostle Paul prays, "May the God of hope fill you will all joy and peace in believing, so that by the power of the Holy Spirit you may abound in hope (Romans 15:13).
This Christmas, ask God for the gift of faith so that you will be able to hear and listen to Jesus speaking his language of love to you personally.
Merry Christmas friends.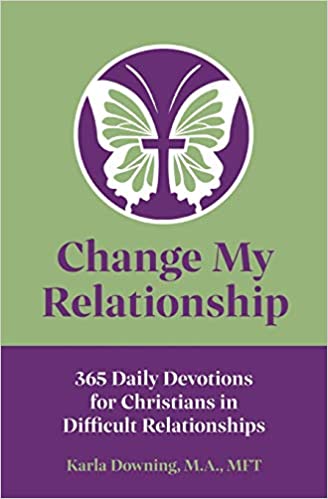 Change My Relationship
by Karla Downing
Do you wish you could get difficult relationship advice from a therapist right when you need it without paying for a therapy session? That is exactly what you will have in this topically indexed daily devotional.
Karla understands what you are going through because she has been there. Raised in a dysfunctional home and married with her own dysfunctional family, she has dealt with all kinds of problems where she used the relationship-changing principles she teaches.
These devotions offer understanding, validation, comfort, and practical advice based on biblical principles. Written in the popular and easy to understand style of Karla's teachings, they give you the principles and tools you need to radically change your life and relationships whether the other person changes or not.
You will read them again and again and turn to them when you are struggling with frustrating and confusing dilemmas in your difficult relationships.
Two winners will be selected in our next newsletter! (Giveaway only available to U.S. residents)
If you would like to enter to win, you can click here to provide name and email address.
The winners of "Is It Abuse?" by Darby Strickland are Janet H. and Ellie H.
Upcoming
Events

Want to have Leslie speak at your event? Click here to find out more information.
Lighthouse Christian Church
April 30th, 2021
Rosemount, Minnesota

Center for Christian Counseling
May 2021
Madison, WI
Call to Peace Ministry Retreat
May 13 – 16th. 2021
Asheville, NC
https://www.calledtopeace.org/events/retreat/
RESCHEDULED FOR 2021
The Village Church
December 3rd
Flowermound, TX
Identifying and Owning Your Problem
Question: I so love your YouTube videos and biblical sound advice. One area that I haven't come across in your teachings is when a husband is addicted to attention, particularly to attractive young women, and comes off as being the nicest guy in the world. Plus he thinks boundaries are a joke!
I have been married to my husband, who is in his mid 60's (which he acts like at home), for nearly five years. Yet, to the public, namely young attractive females, he is extremely charming and acts like he is in his 30's. He comes off as being the nicest and most caring guy in the world. I'm often told how lucky I am! These young women eat up his attention and vice versa. He will go out of his way to be noticed, finding a reason to be standing by them and making conversation. He is very empathetic (which he never shows me) when they have problems, especially to his daughter-in-law that he hangs out with when he visits his son back east.

I have tried to approach him gently, yet at times I have flown into a rage when he throws stuff back at me. He's used gaslighting and has told me I'm crazy more than once (which a couple of times he was probably right after was at my wits end!). When trying to gently talk to him about it, he will instantly cut me off and put it back on me. I get so wounded feeling like I have no feelings at all.

Answer: You didn't really ask me a question about your situation, but you described it so well, I thought it would help other women know they aren't crazy or paranoid or abnormal as they see themselves and their husband in a similar situation to what we see happening to you in your marriage.
One of your questions might be, "Can a man be "addicted" to attention from young pretty women?" I don't know if it would officially be called an addiction, but certainly, you have seen your husband crave the attention and admiration of pretty young females. In his mind, it's harmless friendliness and you are overreacting, exaggerating, and paranoid. You are not. You see what you see and it isn't pretty from the perspective of the wife watching her husband behave like a fool.

So let me help you gain some clarity.

What People Are Saying About Leslie's Empowered To Change Group
"I Learned some valuable lessons. Knowing Core Values (who I am) is different than my fickle feelings and thoughts is huge for me. Avoiding 'what if' thinking and 'worse case scenario disease' will also be helpful to me. Difference between acknowledging and accepting is good for me to know. I acknowledged the problems 10 years ago, but have only moved closer to accepting in last year. Being responsible for my well-being is new to me. Giving up hope of change in my husband has come very slowly. Grieving currently as this is sinking in. Class helped me see a lot of things. Trusting God to work it all 'into' me. I pray it will move me forward. I need hope for me and kids."

~ Graduate of Empowered To Change
LESLIE WELCOMES YOUR QUESTIONS

Leslie wants to help you grow in your personal and relational effectiveness. Please submit your questions by clicking here.
Then, visit Leslie's Blog as she posts her responses to one question per week.
Note: Due to the volume of questions that Leslie receives, she is unable to respond to every question.