What's New:
You still have time! Join my FREE five (5) day Moving Beyond Challenge and get a daily email with a simple teaching + an action item to get you unstuck. We start on Monday, June 8th, you can sign up here.
Are you OverFunctioning?

by Leslie Vernick
Being a nice person is a good thing, right? We want to be nice, we want to raise our children to be nice, have nice friends… nice is just "nice!"
But can "nice" ever be a bad thing? In other words, can you be "too" nice?
Yes.
There are many genuinely nice people – some of the nicest, in fact – who willingly become doormats to friends, family, neighbors and their church community. They're the chronic volunteers, the wives and mothers who cater to their family's every whim.
When you're in the throes of over-functioning it can feel like what you're doing is good. You're being a "servant." You're being "available." You're helping others. Isn't that what God wants from you?
Maybe not. When you overfunction, what you're really doing is enabling other people to underfunction.
Perhaps it's in the way you parent, doing it everything for your kids, believing that's what a good mom does. But later on it will backfire because you will raise self-centered young adults who won't know how to take care of themselves or problem solve when real life hits them in the face.
By doing it all – You've taught your children to always need you because they didn't learn how to function apart from you.
If that's you, don't plan on downsizing at retirement because your kids are probably going to be living with you for a long, long time.
Being too nice can do damage to yourself and to others by keeping them immature and under-functioning.
If you recognize that you're doing things for others that they should be doing for themselves, there's a few things that need to happen in order to change this dynamic.
1. Ask yourself WHY?
Are you afraid to say no?
Are you afraid people will be angry or reject you if you don't do it all?
Do you tell yourself that you have to be needed by someone in order to feel loved or like a whole person?
Do you feel pity on your kids or husband and tell yourself that they can't do it without you?
Recognizing your internal reasons for over functioning is a crucial first step so you won't continue to make the same mistakes.
2. It's important to stop and think about what is in your family's best interests. C.S. Lewis once wrote, "Love is not affectionate feelings, but a steady wish for the loved person's ultimate good as far as it can be attained.
For example, no good parent is going to serve sweets at every meal, even though a child may throw a tantrum when they don't get it. Why? Because that's not in the child's best interest.
Neither is bailing your kids or husband out of every problem they get themselves in.
Sometimes, it's important to let them figure it out or even suffer the consequences of poor decisions. Not to hurt them but so they can learn in sooner rather than later instead of continuing to repeat those mistakes throughout their lives.
3. If you want to make this change, it's helpful to put your family on notice. Let them know you're changing. I call this a speak up conversation. For example, if you had an adult child who moved in with you because of bad financial decisions, your "speak up conversation" might go something like this:
"I love you. In fact, I love you so much I've let it cloud my judgment as a mom. I thought I was being a good parent by giving you everything you needed, by doing things for you…but now I see that I was not allowing you to gain the confidence you needed to do things for yourself.
You've become dependent on me to solve your problems and rescue you when things get hard. I want you to know I see my mistakes and am willing to help you but only temporarily.
I expect you to get a job and save money toward a deposit on your own place. Meanwhile, you need to help me with the expenses here by paying room and board. I want you to be successful and that starts with me letting you be an adult and you beginning to be responsible like an adult.
Be committed to stop your part. Don't over-function. Have a plan for what you'll say when your change isn't received well.
Remember, you can't make another person be healthy but you can choose to be healthy yourself.
For some additional help in moving beyond over functioning sign up for my 5 Day Free Challenge: Moving Beyond. We start on Monday, June 8th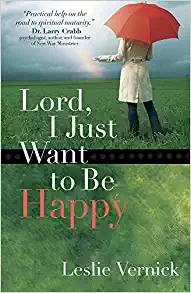 Lord, I Just Want to Be Happy
by Leslie Vernick


With candor, Leslie reveals that readers don't need new circumstances but a new perspective to discover true happiness. With biblical insight, Leslie guides readers to take simple steps as they…
recognize and change habits that, day by day, keep them from experiencing happiness
make good choices and learn from mistakes without beating themselves up
develop the skills that enable them to let go of negative and painful emotions more quickly
transform difficult circumstances so they can live with gratitude, joy, and purpose
Application questions help readers work godly thinking, as well as healthy skills and habits, into their lives and hearts. They'll discover that, even if nothing changes in their circumstances, their inner chains can be broken and they can go free…into a new path of real hope and happiness.
Two winners will be selected in our next newsletter! (Giveaway only available to U.S. residents)
If you would like to enter to win, you can click here to provide name and email address.
The winners of "Overcoming Hurtful Words: Rewrite Your Own Story" by Janell Rardon are Valerie S. and Eden M.
Upcoming
Events

Want to have Leslie speak at your event? Click here to find out more information.
GT Church
Video Message by Leslie
August 16th
West Lawn, PA
New Hope Church
November 6th and 7th
East Lansing, MI
Center for Christian Counseling
November 20th and 21st
Madison, WI

The Village Church
December 3rd
Flowermound, TX

Do I Have A Biblical Right To Say No To Sex?
Question: Do I have a Biblical right to say no to sexual practices I don't want to do? My husband uses the Bible to make me feel guilty when I don't want to have sex every day or do certain things that I find painful or disgusting. What is my wifely role here?
Answer: This is a very common question that I receive from women who have been told or taught that when you get married, "Your body is not your own but your husband's" which comes from 1 Corinthians 7. However, despite what he and others may tell you, the Bible never says or even implies that marriage is all for your husband and his needs, sexual, or otherwise.
A healthy marriage requires safety and trust on both sides in order to flourish. When one person in the marriage is not allowed to voice what she likes or doesn't like, what she wants or doesn't want, or the freedom to say no to things, the relationship is not safe.
Paul's writing in 1 Corinthians 7 and other places such as Ephesians and Colossians were meant to clarify misunderstandings about marriage, not make women slaves or object to be used. In 1 Corinthians 7, Paul was writing to clear up an error that was circulating among the new Christians that abstinence was the best practice for a believer, even if you were married. Paul is refuting this and reinforcing that a good sex life is a part of a good marriage. But Paul was careful to insert a little word that made a huge impact on his patriarchal culture. The word is likewise. Paul said to wives, your body is not yours, and likewise husbands, the same applies. Speaking into that culture, that instruction was radical. It wasn't about a husband having power over his wife, because Paul emphasized, the same rules apply to husbands as to wives. In Paul's other writings regarding submission and headship, he never gives husbands Biblical permission to order their wives around or to ignore their input or feelings. Husbands are told to love their wives and treat them as they would care for their own selves (Ephesians 5:28,29).
Therefore, understand that you have every right to your own feelings and convictions about your sexual likes and dislikes. Your sexual relationship with your husband is one part of your marriage. If you have no choice or voice in that area of marriage, I suspect you don't have much voice or choice in other areas as well. You're being treated like an object whose sole purpose is to do what your husband wants with no consideration or respect for what you want or don't want or what you find appealing or disgusting.
It is NOT a healthy or safe relationship, sexually or otherwise. You are being disrespected and not cared about. This is painful when you are married to such a person and presents quite a dilemma for a Christian wife who wants to honor God. You asked, what is your wifely role here?
Here is What People are Saying About Leslie's Moving Beyond People Pleasing Online Course
I have realized that my husband had the God spot in my life. This has helped me to see that I am not sinning in making my own worship choices, despite what he tells me. This has taken a huge burden off my heart. I am no longer feeling like I have to make everything okay, especially after none of his tirades. I now get that his unhappiness resides in him and it is not my job to fix it. I still struggle, but I am able to research the videos to reinforce what I have learned.

LESLIE WELCOMES YOUR QUESTIONS

Leslie wants to help you grow in your personal and relational effectiveness. Please submit your questions by clicking here.
Then, visit Leslie's Blog as she posts her responses to one question per week.
Note: Due to the volume of questions that Leslie receives, she is unable to respond to every question.