Happy new year: I hope you had a wonderful holiday season. I am praying that 2023 will be a year of healing and growth for all of us. We have some exciting things coming and I can't wait to share them with you.
Are you living by a Compass or a Clock?
Leslie Vernick

The New Year always leads me to reflect. Therefore, may I ask you a question? Do you live your daily life directed by a compass or a clock?
Everyone I know feels too busy. But too busy for what? Often too busy to create and maintain a meaningful life.
We have bought into a toxic lie. We believe that when we're busy, we must be doing something important. The more we get done, the better we feel.
The danger of this lifestyle is that it never ends. We have to continue to produce more, check more off our list, get more done just to feel good. We start to feel like a hamster on a gigantic wheel and we don't know how to get off that wheel without our entire empire crashing.
People have said to me, "Leslie, I don't know how you do it all." Or "wow, you must really be busy doing God's work."
When I am clear minded and in tune with God I say to them, "Don't be fooled.
Chronic busyness is nothing more than a false sense of your own importance, not a mark of true spirituality."
Take a moment and ask yourself. Do you feel that being too busy contributes to your negative moods and misery?
Our entire lives have turned into an exercise in hurry. In packing as much as we can into every minute of our day. Even when I walk my dog, I find myself telling her to hurry up and pee so I can get on to more important things.
As a culture we are time sick and I want you to know what this costs you.
Doctor's offices are packed with people suffering from the conditions brought on by stress: insomnia, migraines, hypertension, asthma, and gastrointestinal trouble.
Burnout used to be something that we mainly found in people over forty, but how we're seeing people in their 30s and 20s who are completely burned out.
To keep pace with the modern world, people are resorting to more potent chemicals keep up. Cocaine remains the booster of choice among white-color professionals, but amphetamines are catching up fast. We take pills to get more done, we drink alcohol to unwind.
We're not sleeping enough because we believe we get more done if we stay up late or get up early. The average America now gets ninety minutes less sleep than she did 100 years ago.
Did you know that drowsiness causes more car accidents than alcohol?
Where is this obsession with speed going? For some of us even "Instant gratification now a days isn't fast enough. People who slow us down become the enemy.
Road rage, air rage, shopping rage, relationship rage, office rage – thanks to our obsession with going faster we live in the age of rage.
We believe if we are busy we must be having a meaningful life. But it is an illusion. A deception. It's living by clock time. Notice what happens when you spin the blades of a fan. You get the impression of something solid.
It's only when you slow it down do you realize it is not what you think. Slowing down helps you build a more meaningful, intentional life. A life run by a compass, not a clock.
The New Year motivates people to stop and reflect on where they are heading. I'd encourage you to start by changing your orientation from clock time to compass time.
Learn to LIVE ON PURPOSE and with purpose. Don't let the urgent dictate your schedule. Instead ask yourself – What's most important to you? What matters most now?
When you live by clock time you're busy but without reflection. Without being intentional about who you are, where you want to go and who God has made you to be (become). Reflection on your use of time gives you crucial information about whether or not you are heading in the direction you want to end up. In other words, without reflection, you've lost your compass.
You and I only have so much time, so much energy to do what we are called to do in this life. Jesus only lived 33 years but he said, "It is finished." He knew who he was, and what he was called to do. He lived in compass time not clock time and lived on purpose, with purpose.
Slow down. Reflect and ask yourself, "What's most important?" Then orient your time around that purpose instead of simply staying busy getting things done.
You can stay very busy, driving in circles for hours, using up your time and valuable gasoline (energy). But if you don't know where you're going or where you want to end up, in the end, it's meaningless.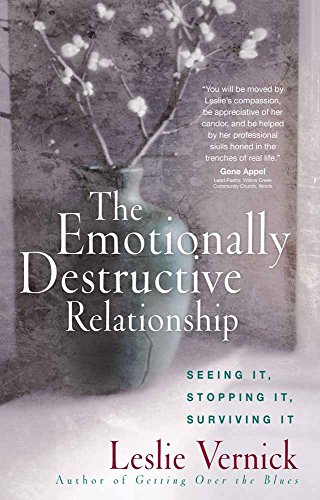 The Emotionally Destructive Relationship
by Leslie Vernick
Leslie Vernick, counselor and social worker, has witnessed the devastating effects of emotional abuse. Many, including many in the church, have not addressed this form of destruction in families and relationships because it is difficult to talk about. With godly guidance and practical experience, Vernick offers an empathetic approach to recognizing an emotionally destructive relationship and addresses the symptoms and the damage with biblical tools. Readers will understand how to:
Reveal behaviors that are meant to control, punish, and hurt
Confront and speak truth when the timing is right
Determine when to keep trying, when to get out
Get safe and stay safe
Build an identity in Christ
This practical and thorough resource will help countless individuals, families, and churches view abuse from God's perspective and understand how vital it is for victims to embrace His freedom from the physical, emotional, spiritual, and generational effects of emotionally destructive relationships.
Two winners will be selected in our next newsletter! (Giveaway only available to U.S. residents)
If you would like to enter to win, you can click here to provide name and email address.
The winners of "The Emotionally Destructive Relationship" by Leslie Vernick are Helen P. and Becky C.
Stay Well
By Susan King

Question: Does "staying well" ever stop feeling fake?
Answer: I read the question and wanted immediately to stop and sit with the person who submitted it. It evoked within me feelings of sadness and frustration. I know how taxing it can be on the mind, body, and spirit to stay well in a destructive marriage. I know it takes effort; I felt many different emotions when I was in that situation myself.
Even though I don't necessarily recall feeling fake as I attempted to stay well, I have some insight into what that might mean. My experience causes me to wonder how staying well is defined in this question. The concept of staying well can mean different things to different people. Also, it would be helpful to hear more about what specifically feels fake when trying to stay well. Because I don't have the answers to these questions, let me explore what staying well could mean and make some guesses as to why it might be causing feelings of inauthenticity.
Since there are so many differing opinions about this topic, let me describe what staying well means to me…
What People Are Saying About Leslie's book "The Emotionally Destructive Relationship"
The Lord changed my life through this book. Leslie Vernick pointed me to a deeper relationship with Jesus and to emotionally healthy choices every step of the way. I was able to gain perspective on the reality of the emotional abuse I'd been living through for so long. Realizing the truth of my situation and reaching out for help brought me to a place of being able to make bold decisions that ultimately led to redemption between me and my husband and our family. Now I always recommend this book when I encounter others who are dealing with abusive relationships.
~ Dana T.
LESLIE WELCOMES YOUR QUESTIONS

Leslie wants to help you grow in your personal and relational effectiveness. Please submit your questions by clicking here.
Then, visit Leslie's Blog as she posts her responses to one question per week.
Note: Due to the volume of questions that Leslie receives, she is unable to respond to every question.