Save The Date: My yearly Moving Beyond Challenge will be held June 21st – 25th. More details to follow next week.
Are You Living As Your Best Self?
by Leslie Vernick
I heard her before I saw her. She cheerily greeted each weary passenger while we waited for our turn to use the women's restroom in the Charlotte, NC airport. She was the bathroom attendant and she took great pride in her work.
Immediately after a woman exited her stall, this attendant went in and wiped it down, humming Amazing Grace as she worked. Each stall was freshly cleaned for the next woman to use. She wiped the sinks, emptied the trash, made sure there were towels, personal hygiene items, and even set out a dish of peppermint candies for those of us who needed our breath freshened after a long trip. Person after person, hour after hour, day after day she served others simply by wiping toilets, sinks, and floors but she did it with dignity and amazing grace.
Dr. Martin Luther King Junior once told a group of junior high students in Philadelphia…
When you discover what you will be in your life, set out to do it as if God Almighty called you at this particular moment in history to do it. Don't just set out to do a good job. Set out to do such a good job that the living, the dead, or the unborn couldn't do it any better.
If it falls your lot to be a street sweeper, sweep streets like Michelangelo painted pictures, sweep streets like Beethoven composed music, sweep streets like Leontyne Price sings before the Metropolitan Opera. Sweep streets like Shakespeare wrote poetry. Sweep streets so well that all the hosts of heaven and earth will have to pause and say: Here lived a great street sweeper who swept his job well.
If you can't be a pine at the top of the hill, be a shrub in the valley. But be the best little shrub on the side of the hill. Be a bush if you can't be a tree. If you can't be a highway, just be a trail. If you can't be a sun, be a star. For it isn't by size that you win or fail. Be the best of whatever you are.
This bathroom attendant practiced Dr. King's words. While I was in that restroom I overheard woman after woman compliment her on how clean she kept it, her cheerful attitude, and her extra mile service. I'm sure the Lord himself smiled as he watched her practice Paul's words, "Work willingly at whatever you do, as though you were working for the Lord rather than for people." (Colossians 3:23).
She will never know it, but that day she inspired me to press on. It's easy to get crabby or weary and live our lives or do our work with an edge of resentment or attitude of entitlement. That's not who I want to be nor what I want to do. I want to be the best possible me and do the best possible job for God's glory.
How about you? We are midway through 2021. Are you living fully or just existing, getting through each day but not very well? Are you doing your work the best you know how or are you settling for mediocrity?
Let's learn a lesson from this simple bathroom attendant and commit to doing whatever God calls us to do with excellence, with joy, with gratitude, and with creative gusto.
And if you're still in a little slump or developed some bad internal habits, I invite you to participate in my Five Day Challenge, Moving Beyond, starting June 21st. I will send the official invite next week.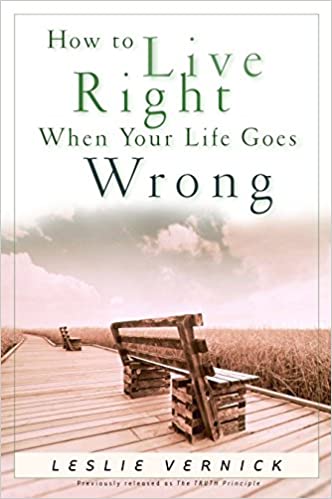 How to Live Right When Your Life Goes Wrong
by Leslie Vernick
Despite the abundant availability of both self-help books and Bible study materials, many of us find it difficult to apply what we learn, to make that long head-to-heart journey of change. When we are faced with life's daily trials, our responses often lack the Christian maturity we desire–showing us clearly just how far we have to go. Is it possible to achieve a deeper, more permanent change of heart?
Discover the Principle that Could Transform Your Life. Now, through one practical, simple-to-understand and easy-to-remember model, you can:
• Gain a new perspective on the troubles God allows in your life.
• Come to better understand your response to those trials.
• Discover the underlying idols that hamper your efforts to change.
• Learn how to discern the truth of God's Word.
• Develop the heart response that will draw you closer to God.
Come on a journey of personal growth and spiritual discovery as your heart is drawn back to a central tenet of the Gospel: Truth isn't something you learn, but Someone you know. And the Truth will set you free.
Two winners will be selected in our next newsletter! One winner for each book (Giveaway only available to U.S. residents)
If you would like to enter to win, you can click here to provide name and email address.
The winners of "The Emotionally Destructive Marriage" by Leslie Vernick is Nikiesha G. and Benu K.
Upcoming
Events

Want to have Leslie speak at your event? Click here to find out more information.
Lighthouse Christian Church
October 22nd and 23rd
Rosemount, Minnesota
The Village Church
December 3rd
Flowermound, TX
Center for Christian Counseling
Date TBA
Madison, WI
My New Marriage Is Abusive. Now What?
Question: I've been married a very short time, since December 2020. It's been a rough transition for me, going from the single girl to married with a stepdaughter. And then two weeks into our marriage, finding out I'm pregnant. We've been up and down and all around. In an effort to be well, I've sought biblical counseling.
It was revealed to me that my husband probably has narcissist personality disorder. Which explains all the emotional and psychological abuse I've been experiencing. He begged me to kick him out so he could move back home to his parents. To the point where I believe he was picking fights with me to get me to do it. Eventually he left. We started counseling but he hung up on us in our 3rd session. That counselor also citing a personality disorder.
Now, he wants to move back. He believes we can put our issues in the past and "just move forward". He doesn't want to do counseling. Won't get help for substance abuse, saying he can control things. All while it's been so volatile (from him) in our separation. He says we can't work on our marriage separated. I get torn because he's pretty convincing and I want my marriage to work but as healthy people. How can I stay empowered to stick to my boundaries while honoring him as my husband?
Answer: I'm sorry that you have had such a painful awakening so early into your marriage. But most women on this blog would tell you that destructive behaviors and entitled thinking show up soon after the honeymoon and become patterns long term. He has a daughter from a previous relationship. You say, he's up and down and all around. What does your stepdaughter's mother say about their previous patterns in their relationship? I would guess, they were the same, although he probably paints himself as the victim.
Your dilemma is that you're tempted to fall for his charming love-bombing right now. You're pregnant, scared, hurt, and want your new marriage to work. But let's continue to look at the facts.
What People Are Saying About Leslie's Moving Beyond People Pleasing Class
"Leslie wasn't the first author I read on abuse, but she's the only Christian author that made sense to me and used a Christian perspective to deal with my own issues. Her class especially helped me identify specifically the changes I needed to make. I learned I could move toward my husband with empathy and support for my husband without feeling like I have to FIX him. With repeated practice this has helped me overcome MY problem of owning HIS issues and taking responsibility for my husband's happiness. In the process of owning my problem, it also helped me take ownership of releasing my anger and bitterness because I was choosing not to be a victim of my husband's unhealthy expectations and demands."
LESLIE WELCOMES YOUR QUESTIONS

Leslie wants to help you grow in your personal and relational effectiveness. Please submit your questions by clicking here.
Then, visit Leslie's Blog as she posts her responses to one question per week.
Note: Due to the volume of questions that Leslie receives, she is unable to respond to every question.