Our New Quickstart Guide: If you wonder whether or not you're in a destructive marriage or just a difficult one, please go to our new Quick Start Guide to find out. You will find it on our homepage here.
Are You In A Destructive Relationship
With Yourself?
Susan King

As a licensed marriage and family therapist and relationship coach, I come across many heartbreaking stories of abuse. I am distraught by the horrible way people can speak to and behave toward one another. The meaning of abuse is still a touchy subject for some, but our society is realizing more and more that emotional abuse is as serious as physical abuse. Emotional injuries are not as visible but they can take longer to heal than bruises or broken bones. Some forms of abuse are covert and hard to detect, yet they take root in the mind of the victim and often become the basis for self abuse.
We are called to steward ourselves well. 1 Corinthians 3:16 says, "Don't you realize that all of you together are the temple of God and that the Spirit of God lives in you?" We have the help of the Holy Spirit to guide us in caring for ourselves because we are reminded that we are to be the holy temple of God. Stewarding yourself well is a challenging concept to think about. When I talk about stewardship or self care, I often describe it as parenting yourself well.
If you had abusive parents or have been in a destructive relationship, you may struggle to parent yourself well. Moreover if you have been in a coercive and controlling relationship, you may have lost sight of who you are. You may have been manipulated to believe lies. Destructive words may have twisted blame and reality causing deep confusion. What would it be like for you to live in freedom without lies, blame and confusion?
A good parent cares about their children and helps them become the best version of themselves, encouraging them to live in truth, helping them grow to take responsibility for their own lives, and offering clear and kind communication. A good parent advocates for their children's health, safety and sanity. Is this how you care for yourself? If not, you may be in a destructive relationship with yourself.
Let me give you some steps to move forward into a better intrapersonal relationship; because the most important relationship you will have is the one you have with yourself and the Spirit living within you.
Create safety and belonging. In order to parent yourself well, you will need to ensure that you have safety in your environment as well as a group of people who will support you. It is important to discern which people in your life will be trustworthy, reliable, caring, and honest. Upholding your boundaries will help you develop physical and emotional safety for yourself.
Become aware of your thoughts. You are made up of much more than just your thoughts and your thoughts are not necessarily true. If you are not aware of our thoughts, you may be living life based on faulty beliefs or lies. You may have absorbed the messages you received earlier on in your life without challenging their validity.
Tune into your emotions. Just like thoughts, emotions are just part of your experience and they should not dictate your behaviors. Your emotions are there to give you information so that you can care for yourself well.
Stop judging yourself. Get curious about your thoughts and emotions without becoming critical. Pause, reflect and explore why you are thinking and feeling the way you do. As you evaluate the information your body is sending you, you will be better prepared to make wise decisions about how you will choose to respond and behave.
Develop self compassion. Positive self-talk is so important. If you have had significant but critical people in your life, you may hear their voice in your head as your own. Practice speaking to yourself like a healthy parent would speak to their toddler.
Take care of your health. Good parents make sure their children are well fed, get proper sleep, are clean and have regular medical checkups. Maintaining mental and physical health takes time and effort but it is well worth the investment. You are worth the investment.
Get to know yourself and God's purpose for your life. Psalm 92:11-15 encourages us, "But the godly will flourish like palm trees and grow strong like the cedars of Lebanon. For they are transplanted to the Lord's own house. They flourish in the courts of our God. Even in old age they will still produce fruit: they will remain vital and green. They will declare, 'The Lord is just! He is my rock! There is no evil in Him.'" God intends for you to thrive and use your time on earth well. Get to know the gifts and talents the Lord has instilled in you. Pay attention to your likes and dislikes. Make note of what moves you and energizes your soul. You are uniquely made and God has a plan for your life.
Life is too short to subject yourself to abuse if you can prevent it. There are many things you will not have control of in your lifetime, but how you treat yourself is 100% within your control. Develop a loving relationship with yourself.
I will close with a charge from Ephesians 2:10; for you are God's masterpiece. He has created you anew in Christ Jesus, so you can do the good things he planned for you long ago. Know this for it is true; you are valued and you are loved.
Be Well!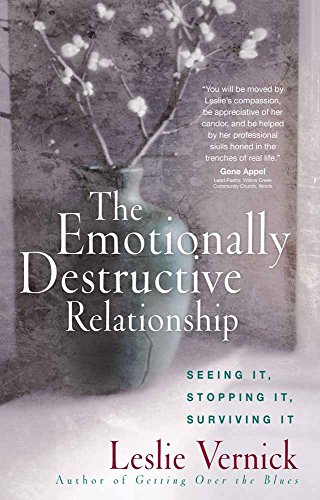 The Emotionally Destructive Relationship
by Leslie Vernick
Leslie Vernick, counselor and social worker, has witnessed the devastating effects of emotional abuse. Many, including many in the church, have not addressed this form of destruction in families and relationships because it is difficult to talk about. With godly guidance and practical experience, Vernick offers an empathetic approach to recognizing an emotionally destructive relationship and addresses the symptoms and the damage with biblical tools. Readers will understand how to:
Reveal behaviors that are meant to control, punish, and hurt
Confront and speak truth when the timing is right
Determine when to keep trying, when to get out
Get safe and stay safe
Build an identity in Christ
This practical and thorough resource will help countless individuals, families, and churches view abuse from God's perspective and understand how vital it is for victims to embrace His freedom from the physical, emotional, spiritual, and generational effects of emotionally destructive relationships.
Two winners will be selected in our next newsletter! (Giveaway only available to U.S. residents)
If you would like to enter to win, you can click here to provide name and email address.
The winners of "The Emotionally Destructive Relationship" by Leslie Vernick are Mary K. and Trista E.
I Don't Trust Him But He Wants Me Home
By Leslie Vernick

Question: Three days after giving birth to our first child, I found out my husband had acquired a gambling addiction while I was pregnant. He hid it from me the entire 9 months and it became severe. So severe, he lost our house, his 401k, and all our savings and put us in a huge credit card debt hold. I stayed by him and tried to get him help. Forgave him and moved in with his parents all while taking care of a newborn and picking up extra shifts in the hospital to increase our saving to rent a house.
To my knowledge, he has not gambled since January. He is finally in therapy and admits he has a problem. When I tried to help him in the past he would only "work the system" to go to therapy to get me off his back. However, now he is going. He is finally open to friends and family about his problems and seems to want to get better.
Here is my problem now… my husband wants me to move back in with him and his parents because he "needs us". He loves and misses us but I have zero trust for him. I'm afraid if I move back in, I'll be right back in a situation of loss, financial crisis, and emotional devastation. I want to protect my daughter, but I also want to not have her parents be divorced and have her constantly shifted from home to home between the two of us. Especially with the distance of the two homes. Just this last visit, he has seemed more of the man I married… but still blames me for leaving and seems to blame his actions and hurts he caused in the addiction and not taking full responsibility for the pain it caused me. I'm at a loss. Please help!
Answer: Wow, I'm so sorry. You've been through a lot of loss and heartache, and I'm not surprised you have trouble trusting your husband again. He's been a good liar through the years of his gambling addiction. Your question how to move forward, or even whether you can move forward is causing you anxiety.
Your preference is to repair your marriage and have a stable, loving home to raise your daughter. I'm with you on that. We'd all like that. Whether or not that is possible, time will tell.
Let me help you by starting here…
What People Are Saying About Leslie's book "The Emotionally Destructive Relationship"
"The Lord changed my life through this book. Leslie Vernick pointed me to a deeper relationship with Jesus and to emotionally healthy choices every step of the way. I was able to gain perspective on the reality of the emotional abuse I'd been living through for so long. Realizing the truth of my situation and reaching out for help brought me to a place of being able to make bold decisions that ultimately led to redemption between me and my husband and our family. Now I always recommend this book when I encounter others who are dealing with abusive relationships."
~ Sydney P.
LESLIE WELCOMES YOUR QUESTIONS

Leslie wants to help you grow in your personal and relational effectiveness. Please submit your questions by clicking here.
Then, visit Leslie's Blog as she posts her responses to one question per week.
Note: Due to the volume of questions that Leslie receives, she is unable to respond to every question.