What's New:
Two more days: You can still save your seat for the Conquer Workshop on September 10th. This is the last time I will do this workshop in 2020. I hope you will join me and save your seat at leslievernick.com/joinwebinar
Are you a Magnet for Abusers?
by Leslie Vernick
Unhealthy, toxic individuals seem to have internal radar for people they can target. They instinctively know who will – and who won't – put up with their bad behavior.
If you're continually attracting destructive people it's likely because you have some key personality traits or character qualities – and you might be surprised what they are.
Some of your best qualities, some of your highest Christian virtues may make you a target for abusers. Why?
Because often our greatest strengths can quickly become weaknesses if they are not paired with wisdom, discernment and courage.
Let me give you a few examples:
People Pleasing: You want to make people happy. This is actually a wonderful quality about you…..as long as you are free to say "no" without guilt when you want to.
If you can't bear the thought of someone being disappointed or angry with you – then you're in danger of being manipulated and used. Your strength can become a weakness.
Loyalty: How could loyalty ever be considered negative? When you are unquestionably loyal to a habitual liar, a cheater or to someone who doesn't reciprocate loyalty, then your loyalty can become dangerous and harmful to you. Even Jesus distanced himself from people who sought to harm him and didn't trust. He never called them friends, even when he was kind and helpful to them..
Forgiving: Toxic people love an endless forgiver. Why? Because they can perpetually take advantage, abuse, and neglect you with an occasional trite apology.
God does call you to forgive but he doesn't call you to be a perpetual doormat. That damages you and enables the sinner to keep sinning without consequence. Forgiveness doesn't automatically mean restored trust or restored relationship.
Forbearance: Another great virtue is to be forbearing and to overlook an offense. But, ignoring habitual sin by pretending it isn't happening or refusing to call it out is dishonest and isn't biblical forbearance.
It's being passive and afraid. Sometimes, the right thing to do is rock the boat with truth.
Kindness: Yes, even a fruit of the spirit can become a problem in some relationships. Kindness without any boundaries is a recipe for being used.
Did you know it is possible to show great kindness while still communicating what kind of behavior you will and will not accept. You can say no, stop, don't, and I don't like that, kindly yet firmly.
Selflessness: The narcissist's favorite target is a person willing to give up her needs, her goals, her feelings, her voice, and her very identity. This enables the narcissist to always be the center of attention.
But, the biblical idea of dying to self really means dying to your pride and ego. In other words, not being a narcissist.
Imagine a seed. A seed dies to its identity as a seed. But not to become nothing. It dies to itself in order to transform into what it was designed to become…a beautiful rose bush or an oak tree. When you are treated like an object to use, your selflessness is hurting you and your relationship.
And last, naive trust. Questioning someone's motives doesn't feel very "Christian."
After all, 1 Corinthians 13:7 says, "Love bears all things, believes all things, hopes all things, endures all things."
But, if you read verse six, you'll see the Bible also says, "Love rejoices in the truth." Blindly trusting someone's words isn't what God expects.
In John, chapter 2, people were claiming faith in Jesus. But, it says, Jesus would not entrust himself to them. Why? Because he knew what was in their hearts.
This is why John the Baptist told the religious leaders in Luke chapter 3, "Prove by the way you live that you've repented of your sin and turned to God."
The church often glorifies dying to self, forgiveness, loyalty, kindness, forbearance, selflessness, and trust. And yes, they are wonderful biblical qualities to develop in yourself. But equally important is wisdom and discernment as well as the ability and courage to say no.
Being godly and healthy are not opposing virtues. We can – and should – learn to be both.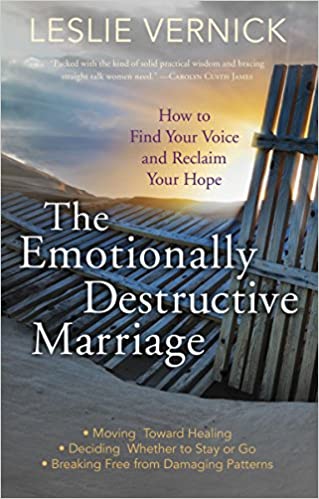 The Emotionally Destructive Marriage

by Leslie Vernick


You can't put it into words, but something is happening to you. Your stomach churns, your heart aches, and the tension in your marriage is making you feel weary and a little crazy. The constant criticism, disrespect, cruelty, deceit, and gross indifference are eroding your confidence and breaking your spirit.
For any woman caught in an emotionally destructive marriage, Leslie Vernick offers a personalized path forward. Based on decades of counseling experience, her intensely practical, biblical advice will show you how to establish boundaries and break free from emotional abuse. Learn to:
identify damaging behaviors
gain the skills to respond wisely
promote healthy change
stay safe
understand when, why, and even how to leave
recognize that God sees and hates what is happening to you
Trying harder to be a perfect fantasy wife won't help fix what's wrong your marriage. Discover instead how you can initiate effective changes to stop the cycle of destruction and restore hope for the future.
Two winners will be selected in our next newsletter! (Giveaway only available to U.S. residents)
If you would like to enter to win, you can click here to provide name and email address.
The winners of "Lord, I Just Want to Be Happy" by Leslie Vernick are Peggy F. and Robin B.
Upcoming
Events

Want to have Leslie speak at your event? Click here to find out more information.
RESCHEDULED FOR 2021
New Hope Church
November 6th and 7th
East Lansing, MI
Center for Christian Counseling
November 20th and 21st
Madison, WI

The Village Church
December 3rd
Flowermound, TX

Is Porn An Acceptable Outlet For Fun And Fantasy?
Question: I recently discovered that my husband has been not only viewing porn on the internet but also "chatting" with multiple women. I even found e-mails where he refers to me as his "soon to be ex" and exchanged phone numbers, and talked about times to meet, etc.
When I confronted him, he swears that all of this is fantasy and that he has never done anything physical with these women. He says he is deeply sorry and will give this all up. But I don't know what to think. How can I trust him again? How will I know if he is really sorry or just sorry for the moment? He has been very emotionally unavailable to me in the past and verbally abusive at times. But now he's being very attentive. I don't know how to respond. Help!
Answer: First, let me tell you how sorry I am that you have experienced this in your marriage. Internet pornography as well as chatting with the opposite sex is a huge temptation for men and women these days. Click here to see a blog post about women in bondage to pornography.
It is perfectly normal that you're struggling to trust your husband. Once broken, trust in a relationship is difficult to rebuild and it takes time and effort. Your recent discovery isn't the only problem in your marriage but it can be a wakeup call for your husband to work to change his ways.
I'm glad you've confronted him when you discovered the pornography and his chatting. In order to invite further change in your marriage, you might want to add something along these lines.

What People Are Saying About Leslie's Conquer Support Group
"Before CONQUER, I was becoming physically sick from many years in a destructive marriage. I had been badly manipulated for years and was living in a cloud of confusion and false guilt under the guise of being a "good submissive wife". After a year of CONQUER, I'm proud to say that I'm a brand new healthy, and confident woman. I went from being a marriage-centered woman to being a God-centered woman. There is no doubt that Leslie and the CONQUER group's care and love have sped up my healing and growth tremendously. The impact of CONQUER is life-altering positive change for me, my children, and generations to come!"

LESLIE WELCOMES YOUR QUESTIONS

Leslie wants to help you grow in your personal and relational effectiveness. Please submit your questions by clicking here.
Then, visit Leslie's Blog as she posts her responses to one question per week.
Note: Due to the volume of questions that Leslie receives, she is unable to respond to every question.