FREE TRAINING: I am excited to bring back my free training workshop. The topic will be "3 Ways to Move from Victim Mindset To Owner Mindset". This is happening on December 7th and I am doing it twice. Save your seat at leslievernick.com/joinworkshop
Are You A Healthy Or Unhealthy Sinner?
by Leslie Vernick

Have you ever confronted someone about an issue only to get a finger pointed back… "Well, you…." Then the conversation suddenly becomes about defending yourself or trying to prove who has committed the worst offenses. Truth be told, you may have made some pretty bad decisions, said some awful things. That's why these conversations can be so confusing and frustrating.
If the Bible is clear about anything it's that we are all sinners in need of a Savior.
For all have sinned and fall short of the glory of God. Romans 3:23
No one is righteous, no, not one. Romans 3:10
Therefore you have no excuse, O man, every one of you who judges. For in passing judgement on another you condemn yourself, because you, the judge, practice the very same things. Romans 2:1-2
For we all stumble in many ways. And if anyone does not stumble in what he says, he is a perfect man, able also to bridle his whole body.
Understanding that we are all sinners means even the healthiest of marriages is a union of two people who will, at times, hurt one another. Say things they shouldn't say. Do things they shouldn't do. This is why the Bible talks so much about grace and forgiveness. Without them, no relationship would survive!
While we are all sinners, not everyone thinks about or deals with their sin in the same way. And that is often the key to whether a relationship remains healthy or becomes destructive.
HEALTHY SINNERS WILL
Admit responsibility for their sin
Make amends for the damage their sin has caused
Show care for the damage caused (the impact of their sin)

Repent and work hard not repeat that sin
On the other hand, UNHEALTHY, IMMATURE SINNERS WILL
Deny, ignore, and even blame others for their sin. Gaslighting is a favorite tactic to deflect from dealing with their own issues.
Expect amnesty for their sin. They love verses on forgiveness and not throwing the first stone but conveniently ignore verses about repentance and submission.
Not discuss the impact of their sin.
Feels bad for the pain their sin causes them (consequences) yet they will continue to repeat the behavior.
Ultimately, the way one responds to their sin has everything to do with the condition of their heart. Renowned 1700's theologian, Jonathan Edwards, said, "The heart of man is exceedingly prone to undue and sinful anger, being naturally full of pride and selfishness."
It's so easy for our hearts to become selfish and hardened to the voice of God. To become unable to empathize with another's pain yet be acutely aware of our own.
This is why scripture repeatedly warns us to care for our heart:
Create in me a pure heart, O God, and renew a steadfast spirit within me. Psalm 51:10
And the peace of God, which transcends all understanding, will guard your hearts and your minds in Christ Jesus. Philippians 4:7
Test me, LORD, and try me, examine my heart and my mind; Psalm 26:2
May these words of my mouth and this meditation of my heart be pleasing in your sight, LORD, my Rock, and my Redeemer. Psalm 19:14
There are many more verses about the heart but Proverbs 4:23 sums them all up: "Above all else, guard your heart, for everything you do flows from it."
You cannot guard another person's heart. That is their work to do. But you can – and must – guard your own. A.W. Tozer said, "The neglected heart will soon be a heart overrun with worldly thoughts; the neglected life will soon become a moral chaos."
You will always be a sinner while living on this Earth. But choose to be a sinner with an open and responsive heart to God.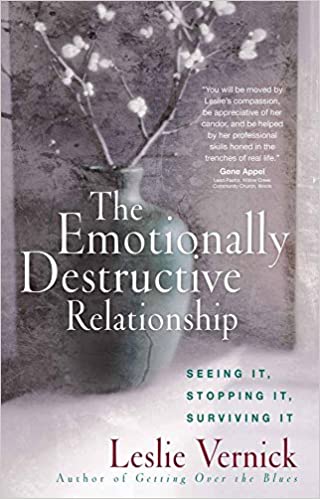 The Emotionally Destructive Relationship
by Leslie Vernick
Leslie Vernick has witnessed the devastating effects of emotional abuse. Many, including many in the church, have not addressed this form of destruction in families and relationships because it is difficult to talk about. With godly guidance and practical experience, Vernick offers an empathetic approach to recognizing an emotionally destructive relationship and addresses the symptoms and the damage with biblical tools. Readers will understand how to:
Reveal behaviors that are meant to control, punish, and hurt
Confront and speak truth when the timing is right
Determine when to keep trying, when to get out
Get safe and stay safe
Build an identity in Christ
This practical and thorough resource will help countless individuals, families, and churches view abuse from God's perspective and understand how vital it is for victims to embrace His freedom from the physical, emotional, spiritual, and generational effects of emotionally destructive relationships.
Two winners will be selected in our next newsletter! (Giveaway only available to U.S. residents)
If you would like to enter to win, you can click here to provide name and email address.
The winners of "Lord, I Just Want to be Happy" by Leslie Vernick are Sharon R. and Suzanne C.
Upcoming
Events

Want to have Leslie speak at your event? Click here to find out more information.
The Village Church
December 2nd
Flowermound, TX
World Women's Wholeness Summit
March 3-5, 2022
Raleigh, NC
Information Here.

Center for Christian Counseling
Date TBA
Madison, WI
Is Pornography Considered Adultery?
By Leslie Vernick

Question: Is viewing pornography and or masturbation biblical grounds for divorce?
My husband and I reached out to a couple that are leaders at our church for godly help. They stated that they do not believe that viewing pornography is biblical grounds for divorce because a physical person is not involved. The couple quoted the scripture Matthew 5:28. Can you provide some insight?
Answer: Sadly, today men (and women) struggle with pornography, masturbation, and sexual addiction. Satan has a foothold into people's hearts and homes and the church hasn't done a very good job at validating the devastating effects this habit has on one's mind, body, spirit, and marriage.
I'm so sorry your church has not taken a strong stand considering the well-documented damage pornography has on a person's mind, sexual abilities, as well as intimate relationships.
I believe church leaders are often reluctant to come down hard on this problem because they fear what might happen. According to surveys conducted by Barna Research, a sizable percentage of pastors also struggle with pornography problems. If they accept that repeated and unrepentant porn use is Biblical grounds for divorce, many marriages will end.
What People Are Saying About Leslie's Empowered To Change Group
"These 3 aspects of E2C gave me the success that I needed in order to gain inner strength and courage.
I realized that from the beginning of the six months of the E2C curriculum that I needed to fully COMMIT to myself to do the work required for this course and to make this class a priority. The structured homework, videos, and ZOOM meetings kept me accountable and motivated me to achieve the goals that I had set out to accomplish. The focused, personal study time was challenging yet insightful. One such example was discovering just how powerful my thought-life had been impacting me in negative ways.
The COACHING aspect was highly professional, personal, and helpful throughout the entire class. My coach has a wonderful gift of listening and responding with clarity and with a focus on the root issues that keep one stuck. Her expertise was evident in how she interacted with each of us individually and as a group. Her calm presence was very grounding.
COMMUNITY: From the first class, we all connected as women from destructive marriages. I found that the safety in this group was paramount and allowed for a deeper dive into the material that was more specific to our relationship challenges. The ZOOM meetings were very beneficial since we had the capability to visually see one another. This group of ladies has been so very special to me personally. We started a private chat group during our time together in E2C where we would ask for prayer requests or praises, ask for input, or share experiences. This special group has stayed connected now for 11 months via this chat app and ZOOM meetings monthly.
The cost for this curriculum, coaching, and connection is priceless! Thank you for making this affordable, readily accessible to revisit online at any time, and for the time and attention on Facebook for these different groups."
~ Christine

LESLIE WELCOMES YOUR QUESTIONS

Leslie wants to help you grow in your personal and relational effectiveness. Please submit your questions by clicking here.
Then, visit Leslie's Blog as she posts her responses to one question per week.
Note: Due to the volume of questions that Leslie receives, she is unable to respond to every question.